Pacific World
Journal of the Institute of Buddhist Studies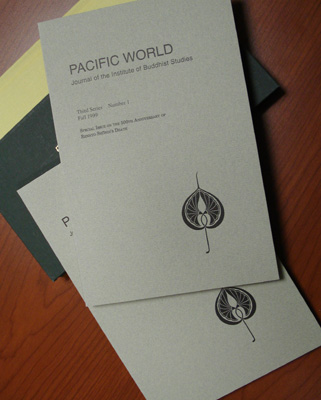 The editorial intent of the third series of Pacific World: Journal of the Institute of Buddhist Studies is to provide a venue for the publication of research and reflection on contemporary issues in Buddhism, with a particular but not exclusive emphasis on the Shin tradition. Contemporary issues include both those related to the application of Shin and Buddhist thought in our present world, and those having to do with the origin, development, and current state of Buddhism as an institution, practice, and system of thought. Essays can employ a variety of different methodological orientations, including for example doctrinal, philosophic, sociological, psychological, textual, ritual, and biographical approaches. The journal is intended to reach both the educated lay Buddhist community and the academic community of Buddhist studies scholars.
The Pacific World is generously funded through the generosity of Bukkyo Dendo Kyokai, and is free to subscribers. Click here for subscription and contact information.
Click here for a style guide for submissions to Pacific World.
The Journal is also available on-line in PDF format. You can read/download individual articles or the entire journal by clicking any of the links to your right.
Archives and Search
The history of the Pacific World Journal can be traced to the 1920s when a group of young Buddhists began a bi-monthly journal at the Berkeley Buddhist Temple. To honor that history, the Institute of Buddhist Studies has scanned the complete collection of all back-issues of the journal into PDF format. Use the links to your right to download or view these issues, free of charge.
These PDFs have been included in the Google search index and are completely searchable via our advanced search page. Click here for the search page and more information.