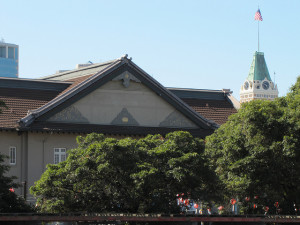 Since 1949 one of the primary missions of the Institute of Buddhist Studies has been to provide a comprehensive program of education and training for persons aspiring to enter the Shin Buddhist ministry in the West. The significance and effectiveness of that effort has long been recognized by the Buddhist Churches of America and the Jōdo Shinshū Hongwanji-ha in Kyoto, Japan. As a result, over the years scores of IBS graduates have been able to receive tokudo ordination, kyōshi certification and kaikyōshi status as overseas Shin ministers from the Hongwanji.
The BCA has recognized the importance of expanding the scope and availability of the Shin Buddhist ministry in order to meet the changing needs of its temples. The minister's assistant program (MAP) represents the BCA's response to that situation, and the IBS has now developed the Kyōshi Certificate Program in order to provide an educational foundation for those persons who wish to serve as kyōshi ministers in BCA temples.
The IBS Kyōshi Certificate Program provides persons with a full educational grounding in areas specified by the Jōdo Shinshū Hongwanji-ha as requisite for receiving kyōshi certification. The program also works in concert with the BCA Center for Buddhist Education to provide kyōshi ministerial aspirants with opportunities to receive practical training in areas of Shin Buddhist liturgy and propagation.
The purpose of this certificate program is to enable its participants to develop an increased ability to understand and transmit the significance of the Shin Buddhist teachings in the contemporary world.