Category Archive: News & Announcements
Sunday, February 19, 2012, 9:56 am
Thursday, February 09, 2012, 7:55 am
Short clip of Rev. Harry Gyokyo Bridge playing his version of "The Nembutsu."
Tuesday, January 31, 2012, 11:24 am
Monday, January 30, 2012, 9:00 am
The Institute of Buddhist Studies, Berkeley, is pleased to announce that the entire run of The Buddhist Forum will be made available as downloadable PDFs on the IBS website.
The Buddhist Forum was first published by the School of Oriental and African Studies, University of London (issues numbered 1 through 5), and by the Institute of Buddhist Studies, Tring, UK (number 6). The series made public research initially presented as part the series of seminars hosted by SOAS between 1987 and 1997, also known as the Buddhist Forum. Over time the issues have run out of print, and become increasingly rare. It is, therefore, with great pleasure that as a result of an agreement between the Institute of Buddhist Studies of Tring, UK, and the Institute of Buddhist Studies, Berkeley, California, USA, that we are here able to present electronic reproductions of the journal. The process of conversion will continue until all six issues are available.
We would like to express our deepest personal appreciation to Prof. Tadeusz Skorupski (SOAS, London) for agreeing to make the journal publicly available via the IBS website, to Prof. Michael Witzel (Harvard) for technical assistance at a key moment in the transfer of files, Ms. Chenxing Han (IBS) for editing and formatting the files, and Prof. Scott Mitchell (IBS) for doing the requisite IT work.
Click here for an index of currently available volumes.
Thursday, January 26, 2012, 9:39 am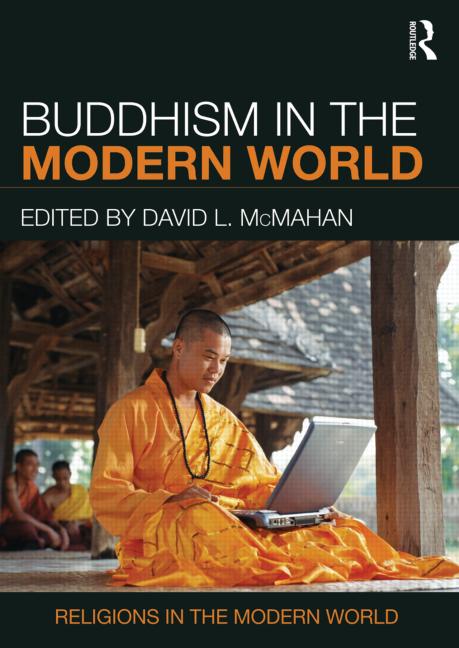 Routledge has published a new volume, edited by David L. McMahan, titled Buddhism in the Modern World.
McMahan is well-known for his foundational work in The Making of Buddhist Modernism (Oxford University Press, 2008) in which he describes how both Asian and Western interpreters have shaped Buddhist discourse over the last two centuries.
In Buddhism in the Modern World, McMahan brings together sixteen scholars to discuss various aspects of modern Buddhism in contemporary Asia and the West. Scholars from Martin Baumann and Paul David Numrich to Damien Keown and Cristina Rocha explore how Buddhism is practiced from Southeast Asia to Europe, how it influences ethics and social engagement, culture and politics.
From the publisher's website:
Buddhism in the Modern World explores the challenges faced by Buddhism today, the distinctive forms that it has taken and the individuals and movements that have shaped it. Each chapter is written by a distinguished scholar in the field and includes photographs, summaries, discussion points and suggestions for further reading. The book provides a lively and up-to-date overview that is indispensable for both students and scholars of Buddhism.
Two IBS faculty members have also contributed to this volume. Dean Richard K. Payne contributes a chapter on Buddhism and psychology. In "Buddhism and the Powers of the Mind," Dean Payne discusses the ways in which modern Buddhism and modern Western psychology arose within a similar cultural-historical milieu thus leading to the perceived similarities between the two traditions. Prof. Scott A. Mitchell contributes a chapter devoted to pop-cultural representations of Buddhism, discussing the ways in which Buddhism is expressed within and is co-opted by mass media.
Buddhism in the Modern World is available in paperback directly from the Routledge website.
Monday, December 12, 2011, 8:23 am
We are pleased to announce a call for papers for the 2nd Annual Graduate Student Symposium at the Institute of Buddhist Studies. Our theme this year is "Globalization, Tourism, Modernization, and the Religions of Asia."
Both in Asia and in the West, religions are transformed by globalization, tourism, and modernization. This conference invites graduate students to submit proposals considering how one or more of these topics affect religions of Asia, either in the U.S. or abroad.
Proposals should be between 150 to 200 words, and include the paper's title and the author's name, affiliation, and contact information. Please submit proposals no later than January 1, 2012.
For more information, or to submit a proposal, please contact Courtney Bruntz or Scott Mitchell.
Important Dates:
Proposal Deadline: January 1, 2012
Notification of Acceptance: February 1, 2012
Submission of Full Paper: March 1, 2012
Symposium: March 16, 2012
Wednesday, November 16, 2011, 11:47 am
The American Academy of Religion is the largest professional organization for scholars of religion in North America. Since 1981, the Buddhism Section within the AAR has been the most stable and diverse forum for Buddhist studies scholars to meet and share their work.
Every autumn, the AAR hosts a national conference bringing together scholars, students, and practitioners of a wide diversity of religious traditions. And this year's conference is in San Francisco. So you can be sure that faculty and staff from the Institute of Buddhist Studies will be in attendance!
IBS Core Faculty member Scott Mitchell has prepared information on some of the Buddhist-related events at this weekend's conference. Of note are a panel on Pure Land Buddhist Studies, the Buddhism in the West consultation, and a reception honoring the late Leslie Kawamura. Check out his faculty blog for more info.
You can follow our Twitter account or Facebook page for more updates. We'll be posting from the AAR Annual meeting all weekend!
Wednesday, October 26, 2011, 10:38 am
Please join us this Friday, October 28, for the Fall 2011 Numata Lecture
Karmic Mindfulness: Rethinking Morality in Contemporary Buddhism
Professor Dale Wright, Occidental College
As a basic principle governing moral thinking, the Buddhist concept of karma is brilliant. With clarity and simplicity, it informs participants in Buddhist cultures that what becomes of them in life is dependent on the quality of their relations to other people and on what they do in life. The fact that the concept of karma was transferred from one religious tradition to others in Asia has meant that its early mythological foundations have been weakened, to some extent allowing it to stand on its own.
Although western religions have moral principles that function in similar ways, in each case these concepts cannot so easily be severed from their mythological grounding in the ideas of the will of God, heaven and hell. That difference suggests that karma's potential as a moral principle for contemporary global culture is outstanding. In order to live up to that role, however, some dimensions of the concept of karma would require rethinking. In this lecture, I assess the strengths and weaknesses of the idea of karma, and suggest how certain aspects of the idea can be developed into a powerful and realistic moral framework for the approaching global society.
Institute of Buddhist Studies, 2140 Durant Ave. Friday, October 28, at 3:00 p.m.
Wednesday, September 28, 2011, 8:00 am

A ceremony officially recognizing the donation of $500,000.00 towards the Jodo Shinshu Center Kodo's Onaijin in 2003 was held on Friday, September 23, 2011 at 10:30 a.m. The Onaijin donation was made in honor of the late Rev. Dr. Yehan Numata, founder of Bukkyo Dendo Kyokai(BDK).
Rev. Dr. Toshihide Numata, President of BDK, attended the ceremony. Also attending were: Mr. Mikiyo Yamashita, President of Mitsutoyo, America, and Rev. Brian Nagata, Director of BDK, America.  Representing the Center were: Rev. Kodo Umezu, Director of Center for Buddhist Education; Rev. Kiyonobu Kuwahara, Director of the Hongwanji Correspondence Course; Dr. Richard Payne, IBS Dean; Rev. Dr. David Matsumoto, IBS; and Rev. Dr. Seigen Yamaoka, IBS.
Following the recognition ceremony, Dr. Numata re-signed the document of a pledge of an additional $500,000.00 to the late Rev. Dr. Yehan Numata Chair for Japanese Buddhist Studies.
"We are deeply appreciative of the generous gifts provided to the IBS by the BDK and the Numata family over the years," stated Dr. Payne.
Tuesday, September 27, 2011, 4:07 pm
The incoming class of fall 2011 at the Institute of Buddhist Studies is one of growing diversity of interest in Buddhist Studies, Shin Ministry and Buddhist Chaplaincy.
Some fifteen ministerial students are enrolled in the degree program, and five are auditing courses on-line. A total of fourteen students are in the Buddhist Chaplaincy degree certification program.  Two students are in general studies with the goal of eventual ministry.
Of the Graduate Theological Union students participating in the IBS program, seventeen are on-site and twenty-two are taking on-line courses.
"IBS continues to grow as it brings Buddhist thought into the western context and provides for an avenue of seeing things from a different perspective, stated Dr. Richard Payne, IBS Dean.