April 30, 2010
3:00 pm
to
5:00 pm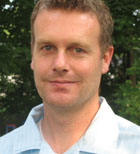 Spring 2010 Numata Lecture
Prof. Jacob Dalton of the University of California, Berkeley, will present this spring's Numata lecture titled How Dhāraṇīs Were Proto-tantric: Ritual Uses of Buddhist Spells in Dunhuang and Beyond.
Paper Abstract: The Tibetan manuscripts from Dunhuang include a large number of copied dhāraṇīs, both sūtras and stand-alone spells. In this talk I will examine the content, the colophons, and the formats of these manuscripts and attempt to draw some broader conclusions about how dhāraṇīs were used by early Tibetan Buddhists living around Dunhuang. I will then turn to the dhāraṇī collections (dhāraṇī-saṃgraha). The contents of these collections could vary according to the interests of the manuscripts' owners, yet certain shared patterns may be discerned. The significance of these formal patterns becomes clear when we see how the same template was used by later Tibetans to structure the dhāraṇī (gzungs 'dus) section of their Tibetan canon (bka' 'gyur). Finally, I will step back to consider the historical development of dhāraṇī ritual practice and textual codification in light of the emergence of the tantras around the seventh century.
Jacob Dalton received his B.A. (Religious Studies) from Marlboro College, and his M.A. and Ph.D. (Buddhist Studies) from the University of Michigan. After working for three years (2002-05) as a researcher with the International Dunhuang Project at the British Library, he taught at Yale University (2005-2008) before moving to Berkeley. He works on Nyingma religious history, tantric ritual, paleography, and the Dunhuang manuscripts. He is the author of a forthcoming study on violence and the formation of Tibetan Buddhism, and co-author of Tibetan Tantric Manuscripts from Dunhuang: A Descriptive Catalogue of the Stein Collection at the British Library (Brill, 2006). He is currently working on a history of Tibetan Buddhism, as seen through the eyes of the "Sutra Empowerment" (Mdo dbang) tradition of the Nyingma school. Future plans include a study of tantric ritual in the Dunhuang manuscripts.
Please contact the IBS or check back here for more information.
April 30, 2010, 3:00 – 5:00 p.m.
Jodo Shinshu Center
2140 Durant Avenue
Berkeley, CA 94704
Contact the IBS for more information.