First Annual Eitaikyo Service
M. Editor
|

November 15, 2012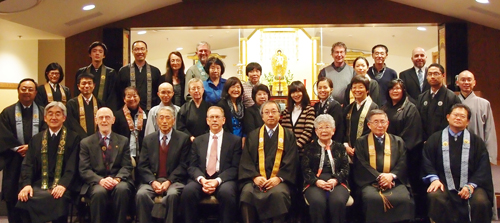 The Institute of Buddhist Studies conducted its first Perpetual Memorial Service (Eitaikyo Service) on Thursday, November 8, 2012. The serviced honored some forty-five pioneers who gave much of their time and energy for the growth of the IBS.
The officiant for the service was Rev. Kodo Umezu, Bishop, Buddhist Churches of America, assisted by Rev. Marvin Harada, IBS Trustee, Chair, and Rev. Dr. David Matsumoto.
Rev. Harada read the names of those who were being honored during the service. They are Mrs. Margaret Blair, Rev. Philip Karl Eidmann, Rev. Ryuichi Fujii, Rev. Hogen Fujimoto, Prof. Ryugyo Fujimoto, Rev. Kakumin Fujinaga, Prof. Ryosetsu Fujiwara, Rev. Russell Hamada, Bishop Shinsho Hanayama, Rev. Satoshi Hirata, Mrs. Kimi Hisatsune, Rev. Eijitsu Hojo, Rev. Ryumei Iguchi, Mrs. Jane Imamura, Rev. Kanmo Imamura, Mrs. Yasuko Kariya, Rev. Kenyo Kumata, Mrs.Shinobu Matsuura, Rev. Kyogyo Miura, Rev. Kakue Miyaji, Prof. Mokusen Miyuki, Rev. Toshio Murakami, Rev. Dr. Masatoshi Nagatomi, Rev. Dr. Yehan Numata, Mr. Hayaji Oda, Mr. Sam Oda, Rev. Shobo Ohata, His Eminence Kosho Ohtani, Prof. Leo Pruden, Mr. Ben Sato, Bishop Enryo Shigefuji, Rev. Remy Snow, Rev. Yoshitaka Tamai, Dr. Kikuo Taira, Rev. Shunsho Terakawa, Rev. Kuyoshiro Tokunaga, Bishop Kenryu Tsuji, Prof. Yoshifumi Ueda, Mr. Noby Yamakoshi, Mr. Motomi Yokomizo, Mr. Eiichi Yoshida, Mr. William Waki, and Mr. Shintaro Ito.
Rev. Jerry Hirano, BCA Ministers' Association Chair, provided the Dharma message. He expressed his deepest appreciation to all the leaders, friends, and ministers who made IBS an educational institution which really helped him to become a minister. Words of appreciation was presented by Dr. Richard Payne, IBS Dean, who stated that IBS became what it is today because of the help all those who went before us, and it is important for us here today, to continue this annual service to express our gratitude.