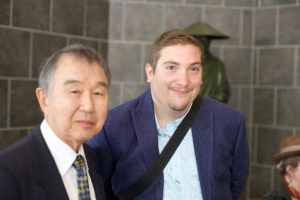 The Master of Arts in Buddhist Studies (M.A.B.S.) provides students an opportunity to deeply engage Buddhist history, thought, texts, and practices as a foundation for further academic study at the doctoral level or professional service in a religious community, the nonprofit sector, or other areas. The program is built on a foundation of academic Buddhist studies in a practitioner-friendly environment, allowing for intellectual growth connected to communities of practice and vocation. As part of our stackable curriculum, students who have already completed an IBS certificate program may continue their studies in the M.A.B.S. either as a precursor to further study or for their own intellectual growth. The program has four distinct tracks, detailed below, and may be completed in two years of full-time study. Students may also enroll part-time and complete the program at their own pace. Institutional scholarships are available for all eligible students.
Program learning outcomes and assessment
In completing the M.A.B.S., students will:
develop academic research skills to gain and demonstrate foundational knowledge of Buddhism's history, traditions, texts, practices, and doctrines
demonstrate and strengthen these skills through specialized study of a specific area or discipline of Buddhist studies
write and defend a research-based capstone project or thesis which applies acquired knowledge and skill to their career goals of service or further study
All students are required to complete 48 units for completion of the degree, maintain a 3.0 GPA and receive a B or better in all required courses, and a research-based thesis project.
---
Admissions Requirements
The admissions process is meant to determine that an applicant is prepared to successfully complete a graduate-level course of study and that the Institute can support the applicant's academic goals. Successful applicants may demonstrate their preparedness to do graduate-level work in a variety of ways including a strong statement of purpose; letters of recommendation that speak directly to an applicant's academic skills; prior academic study, prior language study, or other relevant experience; and, optionally, standardized test scores such as the GRE. Specific admissions requirements are:
A Bachelor's degree (B.A.) or its equivalent from an accredited college or university; coursework in Buddhist Studies, religious studies, or other relevant prior coursework is strongly recommended.
Three letters of recommendation attesting to the applicant's ability to do graduate-level work and familiarity with Buddhist thought and/or practice. Choose people who can speak knowledgeably and articulately about your academic and intellectual potential and will write specific letters. Academic references are not general character references.
A statement of purpose of approximately 500 words that includes (a) your reasons for pursuing graduate studies at IBS; (b) your specific academic interests and how they fit with the faculty and courses at IBS; (c) your professional goals and how you see the M.B.S. supporting your professional goals or further academic study; (d) how your academic background prepares you for your proposed course of study at IBS.
Non-refundable application fee:$40
Optionally, applicants may submit GRE scores from the past five years. GRE verbal score should be at least 150 and writing score of 4 or above.
Applicants are also strongly encouraged to have some prior formal language study in any of the Buddhist canonical or vernacular languages.
Questions about our programs or how to apply? Contact our admissions director Gesshin Greenwood at gesshin@shin-ibs.edu