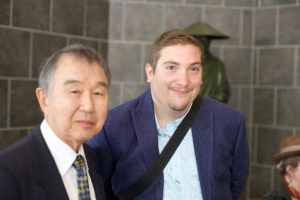 The Master of Buddhist Studies (M.B.S.) degree is a 48-unit graduate degree designed for those seeking a systematic education in Buddhist Studies for professional, academic, or personal purposes. Three different dimensions of the program are identified in order to deliver a comprehensive and systematic education in Buddhist Studies: methodology, scope, and topics of study.
(A) Methodology: Buddhist Studies incorporates a variety of different methodologies, including but not limited to: textual and philological studies, history, psychology, sociology, anthropology, philosophy.
(B) Scope: Buddhist Studies examines the entire range of societies and cultures in which Buddhism has played a role, such as: South and Southeast Asia, Central/Inner Asia, East Asia, and an increasingly global role.
(C) Topics: Buddhist Studies focuses on a diverse array of issues and topics of study, for example: environment/ecology, marginalized peoples (race, gender, differently abled), transmission/translation, specific historical or textual issues, death and dying, and so on.
Students in the M.B.S program will:
Develop substantive knowledge of Buddhist history, thought, texts, and practices
Demonstrate analytical skills through specialist and comparative work
Assess multiple theories and methods of Buddhist Studies
Develop critical thinking, writing, and research skills
Students in the program are required to take 48 semester units (16, three-unit courses). These include a breadth of courses in Buddhist Studies, which provide a basis for an understanding of the doctrinal, historical and cultural development of the Buddhist tradition as a whole. The course of study culminates in a thesis in which the student demonstrates his/her grasp of a specialized area of study within a broader context—for example, Buddhist studies, religious studies, or contemporary social issues. The program is designed so that students can complete their studies in two years.
Master of Buddhist Studies Program Requirements
M.B.S. School Performance Fact Sheet
---
Admissions Requirements
The Master of Buddhist Studies degree program is academic in nature. Applicants to this program should have a demonstrated ability to complete work at the graduate level, an interest in the academic, historical or philosophical study of Buddhism, and a clear sense of how their degree will support their personal or professional goals. Admission requirements include:
A Bachelor's degree (BA) or its equivalent from an accredited college or university; or evidence of having completed equivalent studies under a different educational system.
Satisfactory completion of relevant undergraduate coursework in Buddhism, eastern religions, eastern philosophy, or world religions.
Graduate Record Examination (GRE) scores from within the last five years. GRE Verbal scores should be at least 150. (TOEFL score may be substituted.)
Three letters of recommendation attesting to the applicant's ability to do graduate-level work and familiarity with Buddhist thought and/or practice.
A statement of purpose describing the applicant's reason for pursuing graduate study at IBS and what goal they wish to accomplish through the MBS program.
A non-refundable $50 application fee, payable to Institute of Buddhist Studies.