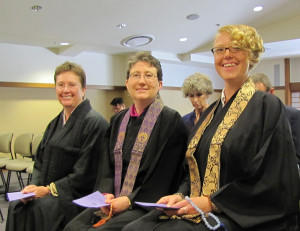 The Master of Divinity (M.Div.) Degree is a 72-unit graduate professional degree which prepares students to engage fully and with confidence in ministry, chaplaincy, and related professions as well as further academic work. The M.Div. program provides a unique opportunity for students to build a rich and nuanced understanding of Buddhist traditions at a Buddhist seminary, and, through its relationship to the GTU and its member schools, a well informed understanding of other faith traditions and the dynamic religious and spiritual landscape of contemporary society. Diversity and dialogue are an essential part of the program and support its aim — to develop skilled, thoughtful and effective leaders grounded in the Buddhist tradition, able to think critically and respond constructively to the needs of a changing world.
Students from all Buddhist traditions are welcome in the IBS M.Div. program. Those seeking ministerial ordination in a specific tradition should consult with their community to ensure course work meets ordination requirements. For those students wishing to prepare for Jōdo Shinshū ministry and/or professional chaplaincy, specialized tracks of study provide additional structure to the M.Div. program. Additionally, students may consider completing a concurrent certificate program to guide and focus their studies.
Want to hear from students and alumni themselves? Below is a panel on spiritual formation where chaplaincy and ministerial alumni discuss the importance of Buddhist spiritual care, facilitated by Chenxing Han.
Students in IBS's Master of Divinity program will:
demonstrate foundational knowledge of Buddhist history, literature, thought, practice, and ethics as the basis for effective ministry, chaplaincy, or religious leadership;
identify and articulate ministerial skills appropriate to their professional goals, using a range of Buddhist and non-Buddhist sources, and demonstrate how these skills apply to their ministry;
gain specific, in-depth, knowledge of the teachings and practices of their own Buddhist tradition and express a well-articulated understanding of how that knowledge serves as a guide and resource for their ministry;
relate their own tradition to multi-religious, multi-cultural, and multi-Buddhist contexts to support effective engagement with diverse communities; and
produce research projects and demonstrate communication skills through writing, public speaking, and dharma talks.
All students are required to complete a range of courses across six subject areas to provide a foundational basis for Buddhist ministry, chaplaincy, and religious leadership in an increasingly interfaith and intercultural world. Click here for complete program requirements.
Interested in a career in Buddhist chaplaincy? Read these frequently asked questions to learn more.
---
Admissions Requirements
The admissions process is meant to determine that an applicant is prepared to successfully complete a graduate-level professional degree program and that the Institute can support the applicant's academic goals. Successful applicants may demonstrate their preparedness to do graduate-level work in a variety of ways including a strong statement of purpose; letters of recommendation that speak directly to an applicant's academic skills; prior academic study, prior language study, or other relevant experience; and, optionally, standardized test scores such as the GRE. Specific admissions requirements are:
A Bachelor's degree (B.A.) or its equivalent from an accredited college or university; or evidence of having completed equivalent studies under a different educational system.
Three letters of recommendation attesting to the applicant's ability to do graduate level work, prior academic experience, and/or prior Buddhist training or experience (such as service to a temple), as appropriate. Choose people who can speak knowledgeably and articulately about your prior academic or other relevant experience as well as your potential professional goals.
A statement of purpose of approximately 500 words that includes (a) your reasons for pursuing graduate studies at IBS; (b) your specific academic interests and how they fit with the faculty and courses at IBS; (c) your professional goals and how you see the M.Div. supporting you; (d) how your academic background or relevant prior experience prepares you for your proposed course of study at IBS.
Non-refundable application fee: $40
Optionally, applicants may submit GRE scores from the past five years. GRE verbal score should be at least 150 and writing score of 4 or above.
Additionally, applicants may provide evidence of relevant prior professional or academic experience or prior language study.
Questions about our programs or how to apply? Contact our admissions director Gesshin Greenwood at gesshin@shin-ibs.edu
Start your M.Div. Degree Program application today!