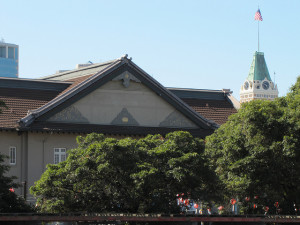 The purpose of this certificate program is to enable its participants to develop an increased ability to understand and transmit the significance of the Shin Buddhist teachings in the contemporary world.
Moreover, the Certificate in Shin Buddhist Studies program provides persons with an educational grounding in areas specified by the Jōdo Shinshū Hongwanji-ha as requisite for receiving kyōshi certification.
Since 1949 one of the primary missions of the Institute of Buddhist Studies has been to provide a comprehensive program of education and training for persons aspiring to enter the Shin Buddhist ministry in the West. The significance and effectiveness of that effort has long been recognized by the Buddhist Churches of America and the Jōdo Shinshū Hongwanji-ha in Kyoto, Japan. As a result, over the years scores of IBS graduates have been able to receive tokudo ordination, kyōshi certification and kaikyōshi status as overseas Shin ministers from the Hongwanji.
The BCA has recognized the importance of expanding the scope and availability of the Shin Buddhist ministry in order to meet the changing needs of its temples. The minister's assistant program (MAP) represents the BCA's response to that situation. Persons who wish to receive tokudo or kyōshi ordination or serve as ministers in BCA temples should contact the minister at their local temple or the Office of the Bishop of BCA. The IBS Certificate in Shin Buddhist Studies has been developed in order to provide an educational foundation for those on this path.
This certificate can be completed concurrently with a degree program or fully online.
For students who are not currently enrolled in a degree program, the admissions requirements for this program are:
Evidence (transcripts) of relevant prior study or coursework such as previous Buddhist Studies courses or a Bachelor's degree (B.A.).
Two letters of recommendation attesting to the applicant's ability to do graduate-level work, familiarity with Buddhist thought and/or practice, and relevant prior study or experience. One letter from supervising minister is recommended.
Statement of purpose (approximately 300-500 words) that includes (a) your reasons for pursuing graduate studies at IBS; (b) your specific academic interests and how they fit with the faculty and courses at IBS; (c) your personal or professional goals and how you see this certificate supporting them; (d) how your relevant academic background or prior experience prepares you for your proposed course of study at IBS.
Non-refundable application fee: $15
Students admitted to a degree program who want to complete a concurrent certificate must petition for admittance into a certificate program. Please contact the Registrar for the applicable form.
Start your certificate application today!
Contact the program coordinator
---
Program Requirements
Students must complete a total eight, 3-unit courses for a total of 24 units. All courses must be taken for credit and passed with a B- or better. Audited courses shall not count toward fulfillment of the certificate requirements. Please see the IBS catalog for further information regarding course credit, audited classes, and related policies.
The program's eight required IBS courses (with the corresponding Hongwanji requirement) are:
Introduction to Shin Buddhist Thought (真宗教義 1)
Readings in Mahayana Texts: The Three Pure Land Sutras (仏教教義1)
The Seven Pure Land Masters: History of the Pure Land Tradition (仏教教義 2)
History of the Shin Buddhist Tradition: Premodern (真宗史)
Buddhist Traditions of South Asia (仏教史 1)
Buddhist Traditions of East Asia (仏教史 2)
HRPH-4566: Works of Shinran I (or Works II or III with permission of the Dean) (真宗教義 2)
Buddhism and World Religions (宗教概説)
Other courses or course substitutions may be possible with Dean's approval. See IBS catalog for related policies.
---
Notification
Education provided by the Institute of Buddhist Studies is academic in character, i.e., it is not a vocational program. Ecclesiastical matters for Shin ministry (advancement to ministerial candidacy, ordination, etc.) are the province of the Office of the Bishop, Buddhist Churches of America, 1710 Octavia Street, San Francisco, CA 94109-4341, (415) 776-5600; http://buddhistchurchesofamerica.org/. Successful completion of a degree program or certificate does not guarantee ordination or employment.