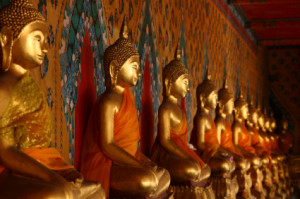 The Certificate in Theravada Buddhist Studies is intended for two types of students: (1) IBS degree (MA, MBS, or MDIV) program students who wish to demonstrate a knowledge of Theravada Buddhist studies, history, and practice; and (2) students from outside the IBS, particularly Theravada practitioners, who wish to enhance their engagement with the tradition and their communities by obtaining a systematic graduate level education in Theravada Buddhist studies.
Students who complete this program will:
Locate Theravada Buddhism within the larger history of Buddhism as a whole
Study Theravada Buddhist texts and practices using critical methodologies
Develop critical reasoning and writing skills through academic writing and reflection
The certificate is offered in cooperation with the Sati Institute of Theravada Studies and overseen by the Program Director, Dr. Diana Clark, in cooperation with Dr. Scott Mitchell, Dean.
Degree program students wishing to complete a concurrent certificate program must contact the Registrar for the requisite form. Non-degree students must apply for admission by the published deadline. Application requirements include transcripts, letters of recommendation, a statement of intent, and an application fee.
Start your online application today!
---
Program Requirements
Students must complete a total of six, 3-unit courses within three years to complete the certificate. (In-degree program students may complete the course requirements within the timeframe of their degree program.)
Required courses:
Buddhist traditions of South Asia (HRHS 1515)
Buddhist traditions of East Asia (HRHS 1518)
Recommended courses include:
Final paper should be topic relevant to Theravada Buddhist Studies
Introduction to the Study of Theravada Buddhist Traditions (HR 1596)
Readings in Early Buddhist Texts (HR 1615, HR 8160)
Introduction to Buddhist Meditation (HRPH 1508)
Meditation in the Theravada Tradition (HR 2990)
Life and Teachings of the Buddha (HR 1550)
Life and Teachings of Theravada Buddhist Masters (HR 1551)
Buddhist Texts: Pali I (HR 1525)
Buddhist Texts: Pali II (HR 1511)
Readings in Early Buddhist Texts (HR 1615), (may be repeated if different texts are studied)
Buddhism and the West (HR 2849, HR 2850, HR 8344)
Topics in Theravada Buddhist Thought (HR 2995), (may be repeated if different topics are studied)
Buddhist Ethics (HRCE 3002)
Theravada Buddhism (HRHS 4550)
Topics in Buddhist Thought (HRPH 4556, HRPH 8455), when topic is appropriate
Topics in Buddhist Practice (HRPH 4558), when topic is appropriate
Topics in Buddhism in the West (HRHS 5526), when topic is appropriate
Topics in Buddhist Studies (HRPH 6015), when topic is appropriate
Other courses with Director's approval