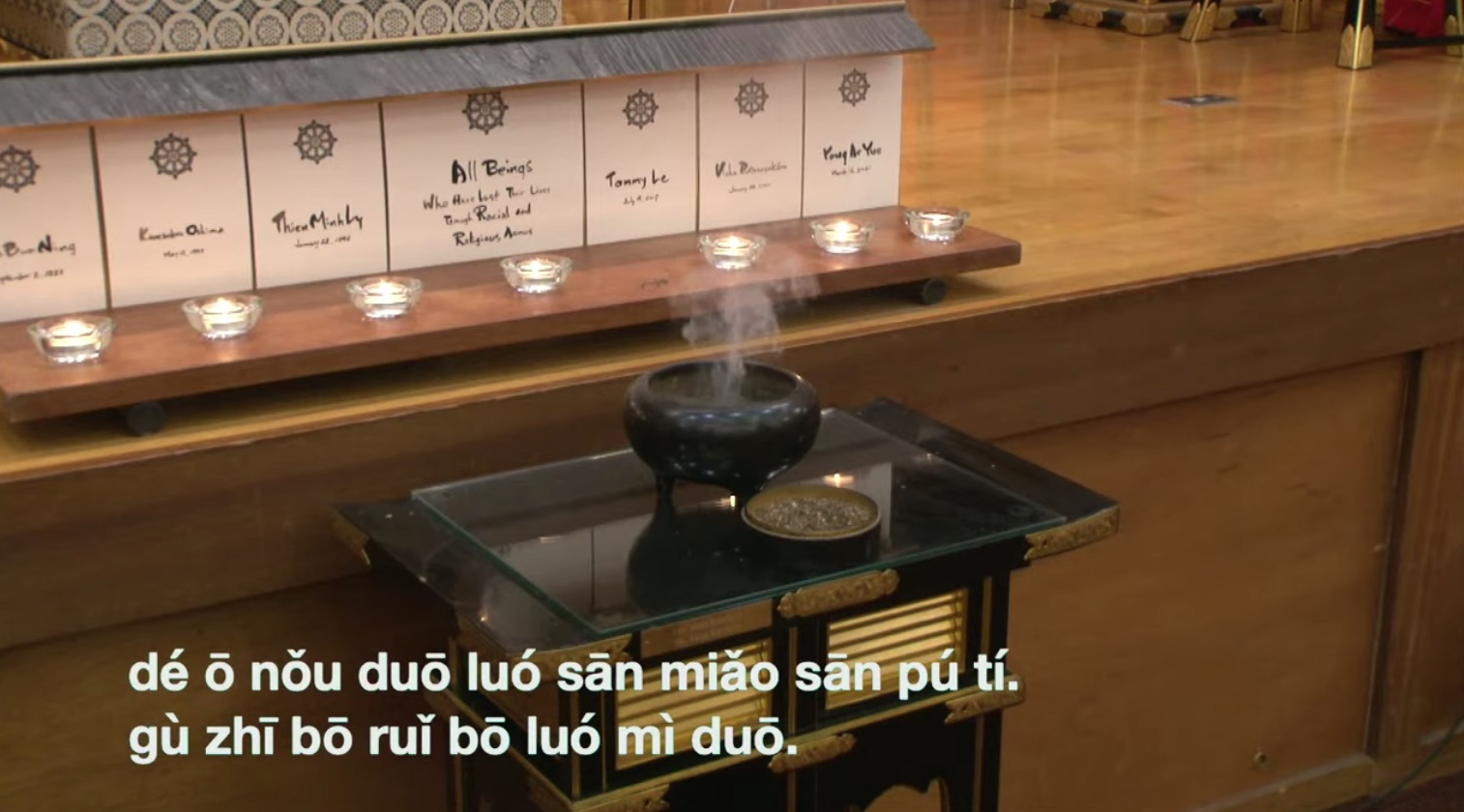 "May We Gather" Demonstrates Communal Healing as an Act of Protest
Gesshin Claire Greenwood
|

May 4, 2021

On May 4th at 4pm, over 1700 people watched the livestream of "May We Gather," a pan-Buddhist memorial to honor the 49th day memorial of the victims of the Atlanta shootings. At once memorial service, communal healing and protest against racism, sexism, and xenophobia, "May We Gather" showed that Buddhist ritual can be a powerful way to enact social change while simultaneously tending to the hearts and minds of practitioners.

Hosted by Rev. Dr. Duncan Williams, Dr. Funie Hsu, and IBS alum Chenxing Han, the memorial service gathered together Buddhist clergy and practitioners from Thai, Japanese, Korean, Chinese, and Vietnamese lineages. The event wove together ritual offerings of light and incense, traditional Buddhist chants like the Jusiege, the Three Refuges, and the Heart Sutra, and explicit calls for social justice and the end of racist violence in the United States. Following a procession of monks, nuns and laypeople from diverse lineages, Han opened with a land acknowledgement to bring awareness to the genocide and land theft of Native Americans. She spoke to the legacy of anti-Asian violence in this country, and contextualized the current surge in violence today during the pandemic by pointing out that this anti- Asian violence is "often driven by fears of contagion."

Further dharma talks by Williams, Sister Kinh Nghiem (of Deer Park Monastery) and others linked together police brutality and the murder of George Floyd, xenophobic violence during WWII culminating in internment camps, vandalism at Asian-American Buddhist temples, and the recent attacks against Asian-American women as a pattern of racialized violence endemic to American society. They encouraged listeners to rely upon Buddhist teachings of wisdom and compassion to combat hatred and greed. Talks on social justice and the need for healing from racial violence were interspersed with rituals to honor those who have died from racial violence, such as incense and light offerings for memorial tablets of Asian-American victims.

Williams spoke explicitly about the need for community healing: "It is only through joining together that we know we are not alone. In ceremony, loss can be transformed into connection, including connection with those we believe are absent." In this sense, the dead "teach us that we are inextricably linked."

Buddhist ceremony and ritual can act as a way to connect grieving communities. Like the Buddhist memorials and protests at Fort Sill over a year ago, "May We Gather" showed that Buddhist memorials can be a way to not only honor those who have died, but also connect communities and provide hope and encouragement for a more just and equitable future.

It's hard to fight for justice with a broken heart. "May We Gather" showed that mending our brokenheartedness together is a powerful way to fight for change. By coming together to honor those who have died, by speaking the truth about racist and sexist oppression, we can help heal our communities while also demanding the end of violence.