"Until We Are All Free, None of Us Are Free"- Japanese-Americans Stand in Solidarity at Fort Sill
Gesshin Claire Greenwood
|

July 26, 2019

On July 20, hundreds of people from across the country, including over twenty Buddhist priest from various traditions, joined together to protest at the Fort Sill army base, in Oklahoma. The U.S army imprisoned Native Americans at Fort Sill in the 19th century and later held over 700 Japanese Americans there, including 90 Buddhist priests. Three Japanese Americans died in captivity. This summer, Fort Sill had planned on imprisoning 1,400 migrant children as part of the Trump administration's family separation policies.

Dozens of diverse coalitions cooperated in organizing the protest against family separation, including United We Dream and Dream Action Oklahoma, Black Lives Matter, Indigenous Environmental Network, Women's March Oklahoma, and Tsuru for Solidarity. The protest was a unique demonstration of solidarity and coalition building. Four days after the protest occurred, Senator Jim Inhofe of Oklahoma announced that plans to use Fort Sill as a detention center had been put on hold.

Tsuru for Solidarity is a fairly new organization that came together in the spring of 2019. It draws upon Japanese-Americans' history of trauma and displacement at the hands of the U.S government, but seeks to use this suffering as a place of solidarity and connection with other communities. As Mike Ishii, one of the founders of Tsuru explained, "We are here because we represent the voices of outrage in our community and in communities across this country that have been historically targeted by white supremacy and racism."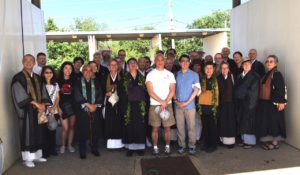 As the throng of diverse marchers approached the gates of Fort Sill in 105-degree heat, one young woman leader from United We Dream raised her fist and bent a knee, signaling the crowd to do the same. At her signal, hundreds of protesters raised their fists, knelt to the ground, and waited in silence before a small group of black-robed priests. In the moment of silence, Rev. Kojima of Zenshuji in Los Angeles led the priests in chanting the Heart Sutra to honor Kanesaburo Oshima, a prisoner of the internment camp who was shot in the back of the head by guards. Members of Tsuru for Solidarity had set up a small altar carrying a wooden statue of the Buddha that was carved in 1943 in the WWII camp Manzanar, along with a photograph of Oshima. Oshima's family had also sent leis from Hawaii, which Rev. Duncan Williams and Rev. Egyoku Nakao carried to the cannons at Fort Sill's gate after the memorial service.
Following the protest at Fort Sill's gates, hundreds gathered at a nearby park for a picnic and more speeches. At the end of the program, Tsuru for Solidarity performed a ceremony with thousands of cranes that were folded by Japanese Americans and Buddhist sanghas from across the country. Next, priests performed a longer memorial service to honor the Japanese and Indigenous people who died at Fort Sill, along with the ten migrant children who have died this year in the custody of border patrol. Because most of the Japanese interned at Fort Sill were from the Jodo Shin sect, Rev. William Briones of Los Angeles Nishi Hongwanji led priests in a recitation of Juseige following the Heart Sutra.
Ishii invited members of the audience to write the names of loved ones who have died or are suffering onto paper oihai, or memorial tablets. While Buddhist priests chanted, dozens of undocumented youth and other participants wrote names onto the tablets and brought them to the alter. One woman had written down eight names and was visibly crying. At the end of the service, Tsuru for Solidarity members gifted the cranes to members of United We Dream as demonstration of unity and solidarity.
I participated in both ceremonies in Oklahoma and found them incredibly moving. I have never experienced Buddhist ceremony being used as a way to heal from state violence, or as a focal point of this kind of collective grief. I trained as a Zen priest in Japan, where memorial services are commonplace, and I have conducted countless memorial services and funerals for families. But I have never performed a memorial service that felt as relevant and necessary as this. In Oklahoma I was reminded that Buddhist priests are first and foremost community healers, and we have a responsibility to facilitate healing. We serve the needs of our community, whatever those needs are.
In person and later on twitter, members of United We Dream expressed their gratitude for the event. #closethecampsbae tweeted, "Words cannot express how grateful I am for the indigenous & Japanese American communities today. I cried so much. Our communities are being detained and killed. We carry trauma in our hearts and bodies. But "we are tsuru, we are cranes:" peace, hope, love. And we are powerful."
"Remembering the ancestors is kind of Buddhism at its root," explained Williams. He believes Buddhist memorial services can be used for grieving contemporary problems of racial trauma, because the act of remembering links past and present, and allows the participant to heal. "We tend to say we dedicate the merit of whatever we're chanting to this ancestor or someone who's passed away, but actually it's about the living people getting some kind of courage, getting some kind of encouragement from the ancestors."
Many Buddhists in attendance also noted that the protest highlighted the reality of interdependence. Yumi Hatta, who works for the Buddhist Church of America's Center for Buddhist Education, noted the similarity between protest chants and the bodhisattva vow. She noted that during the protest, "We all felt our humanity depended on each other and were vitally connected. [It] reminded me of the bodhisattva vow of not attaining enlightenment without all attaining it."
Of course, interconnectedness is not only a Buddhist concept. Many speeches during the rally spoke to this interdependence. One protest sign read "Until We Are All Free, None of Us Are Free."
During the morning's memorial service at the gates of Fort Sill, a Trump supporter who was staging a counter-protest ran hurriedly towards the group of Buddhist clergy. Oklahoma is an open carry state, and he was visibly armed with an assault rifle and knife. But as he ran towards the chanting priests, several members from the American Indian Movement (AIM) stepped in front of him, using their bodies as a shield to block him from disrupting the memorial service or harming the protesters. Later, one member of AIM explained to Ishii, "You are our relative now. And we will protect you."
Activists cited this kind of unity, intersectionality, and coalition building as crucial to the protest's success. Following the news that Fort Sill was no longer planning to imprison migrant children, Tsuru for Solidarity announced, "This victory is a direct result of solidarity, organizing, and protest."
---