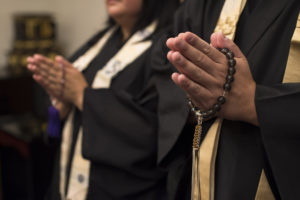 Since 1949 one of the primary missions of the Institute of Buddhist Studies has been to provide a comprehensive program of education and training for persons aspiring to enter the Shin Buddhist ministry in the West. The significance and effectiveness of that effort has long been recognized by the Buddhist Churches of America and the Jōdo Shinshū Hongwanji-ha in Kyoto, Japan. As a result, over the years scores of IBS graduates have been able to receive tokudo ordination, kyōshi certification and kaikyōshi status as overseas Shin ministers from the Hongwanji.
Whereas students pursuing a career in Jōdo Shinshū ministry may complete their studies in any of our degree programs, students are generally encouraged to complete the Master of Divinity program. Students may also wish to complete the Certificate in Shin Buddhist Studies and are encouraged to pursue study at Ryukoku University in Kyoto, Japan, as part of their program. Applicants are encouraged to contact Rev. Harry Bridge with any questions about an IBS education can support your path to ministry.
---
Notification
Education provided by the Institute of Buddhist Studies is academic in character, i.e., it is not a vocational program. Ecclesiastical matters for Shin ministry (advancement to ministerial candidacy, ordination, etc.) are the province of the Office of the Bishop, Buddhist Churches of America, 1710 Octavia Street, San Francisco, CA 94109-4341, (415) 776-5600; http://buddhistchurchesofamerica.org/. Successful completion of a degree program or certificate does not guarantee ordination or employment.