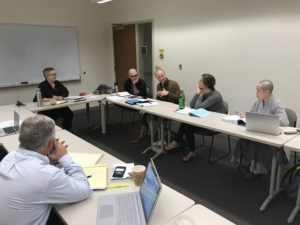 The mission of the Institute of Buddhist Studies is, in part, to provide graduate level education in the full breadth of the Buddhist tradition with specialized education supporting Shin Buddhist studies, Buddhist ministry, and Buddhist chaplaincy. To meet this mission, IBS has developed a curriculum grounded in the academic study of Buddhism and rooted in a tradition of practice, at the intersection of academic and practitioner communities.
Four Paths
Recognizing that our students take many paths into and from IBS — and that they may change paths along the way — our programs provide both flexibility and structure to meet students' personal and professional goals. We have four defined "paths" through our programs.
Buddhist ministry: since our beginnings as the Buddhist Study Center, IBS has been preparing Buddhists for service as ministers or priests for over seventy years. In addition to an explicit course of study supporting ordination in the Nishi Hongwanji-ha tradition of Jōdo Shinshū Buddhism, we also support Sōtō Zen and Theravada Buddhist ministerial education.
Buddhist chaplaincy: for more than a decade, IBS has been a leader in Buddhist chaplaincy education. As an accredited institution, our M.Div. degree meets the APC requirements for board certification. Students who have a background in chaplaincy or prior education may also take advantage of our certificate programs or other educational opportunities.
Pre-doctoral study: grounded in academic Buddhist studies, many of our students have completed Masters degrees at IBS and continued their educations, earning PhDs from the Graduate Theological Union, the University of California, Stanford University, and beyond. Our programs' rigor and opportunities for language study well-prepare students for doctoral programs and careers in the academy as scholars, teachers, and researchers.
Personal enrichment: balancing structure with flexibility, our programs have always provided space for students charting their own paths. With a firm foundation in Buddhist history and thought, a wide range of electives and advanced seminars, and thoughtful academic advising and support, our programs can serve the needs of those students who simply want to learn more about Buddhism or need specialized knowledge for careers as psychotherapists and counselors or as leaders in the nonprofit sector.
Three Baskets
Regardless of the paths our students take, our curriculum combines a breadth of foundational knowledge with specialized and contextual education.
Foundational education refers to the "full breadth" of the Buddhist tradition mentioned in our mission statement. Here, students learn about Buddhism's historical origins and spread across Asia and the world while contextualizing specific Buddhist traditions (such as Jōdo Shinshū, Sōtō Zen, and Theravada) within that broad history.
Further study allows students to build on this foundational knowledge by focusing on specific traditions, areas of study, or disciplines. Whether through sustained study of a specific lineage or teacher (the writings of Shinran, for example), or language study (Buddhist Japanese say), students will gain deeper insight into their chosen area of study.
Contextual education further connects the academic study of Buddhism and its practical application beyond IBS's programs. Whether students intend to become ministers or chaplains, scholars or teachers, or leaders in their communities, our programs provide the means for students to develop and integrate connections between Buddhist thought and Buddhist practice. Students will also develop relevant skills to be of service to their communities and the public.
The fourth paths form the basis of tracks of study in our Master of Arts in Buddhist Studies and Master of Divinity degree programs. And our stackable curriculum is interwoven with the three baskets, allowing students to complete a certificate program and apply those units toward a degree program.
Explore our website to discover your Buddhist educational path.