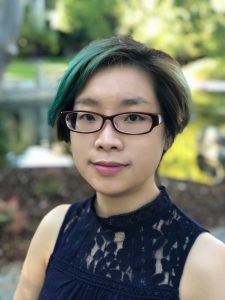 chiffonbleu@gmail.com
Emily S. Wu is an expert in Daoism and Chinese Folk Religions, particularly infood, healing, and medical practices in Chinese and other East Asian religious contexts. Her teaching and community work also explore deeply into the diasporic, transnational, and cross-cultural Asian experiences and understandings of health and healing, community-building, and social justice.  She serves as steering committee co-chair (2015-2020) of the Religions, Medicines, and Healingunit of American Academy of Religion.
Degrees and Certifications:
PhD, Cultural and Historical Studies of Religions, Graduate Theological Union
MA, Religion and Society, Boston University
Research and Teaching Interests:
Daoism and Chinese Folk Religions in contemporary China, Taiwan, and United States
Food, healing, and medical practices in Chinese and global religious contexts
Expressions, interpretations, and transmissions of East Asian religious ideas in diasporic communities
Service-Learning and other community-based learning, pedagogy, and research
Recent Publications:
"Eat Less Meat to Save the World: Monk Changlyu's The Book of Diagnosis and Natural Foods."  Buddhism and Medicine: An Anthology of Modern and Contemporary Sources.  Ed. C. Pierce Salguero.  New York: Columbia University Press, 2019.
Interreligous Pedagogy: Boundary-Crossing Engagements and Interdisciplinary Approaches.  Ed. Emily S. Wu and Jung Eun Sophia Park, SNJM. New York: Palgrave Pivot, 2018.
 "Chinese Ancestral Worship: Food to Sustain, Transform, and Heal the Dead and the Living."  Dying to Eat: Cross-Cultural Perspectives on the Role of Food in Dying, Death, and Afterlives.  Ed. Candi K. Cann.  Lexington, KY: University of Kentucky Press, 2017.
"Teaching aboutQi: Knowledge Transmission among Chinese Ethnic Practitioners of Traditional Chinese Medicine in the United States." Chinese Overseas: Religions, Identity and Transnational Networks.  Ed. Tan Chee-Beng.  Singapore; Hackensack, NJ: World Scientific Publishing, 2014.
Traditional Chinese Medicine in the United States: Searching for Spiritual Meaning and Ultimate Health. Lanham, MD: Lexington Books, 2013.
Courses Taught:
Buddhism and World Religions