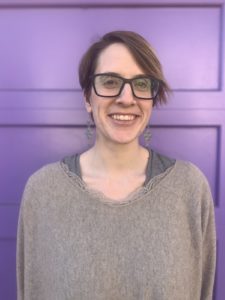 Communications and Admissions Director
gesshin@shin-ibs.edu
Gesshin is an ordained priest in the Soto Zen tradition. She trained in Japan at Toshoji and Aichi Senmon Nisodo for four and a half years before returning to the United States and completing Zuise. She is now affiliated with the Empty Moon Zen Sangha. She has a master's degree in East Asian Studies from the University of Southern California, where she focused on medieval Soto Zen convents with a postcolonial feminist frame, and a second master's degree in Counseling Psychology at the California Institute of Integral Studies. In her writing and therapeutic work, she brings together her experience with feminism, religion, spirituality and mental health to serve the needs of young women and LGBTQ clients.
Education:
B.A (cum laude) in English Wesleyan University
M.A in East Asian Studies University of Southern California
M.A in Counseling Psychology, CIIS
Recent Publications:
Just Enough: Vegan Recipes and Stories from Japan's Buddhist Temples, New World Library, 2019
"How Marie Kondo Bucks Japanese Tradition, and Why it Matters," Lion's Roar Magazine, 2019
"Enlightenment is a Male Fantasy," Buddhadharma Magazine, 2018
Bow First, Ask Questions Later: Ordination, Love and Monastic Zen in Japan, Wisdom Publications, 2018