2023 Numata Symposium: Buddhist Practice: Perspectives on and From the Oxford Handbook of Buddhist Practice
October 6 @ 10:00 am

-

5:00 pm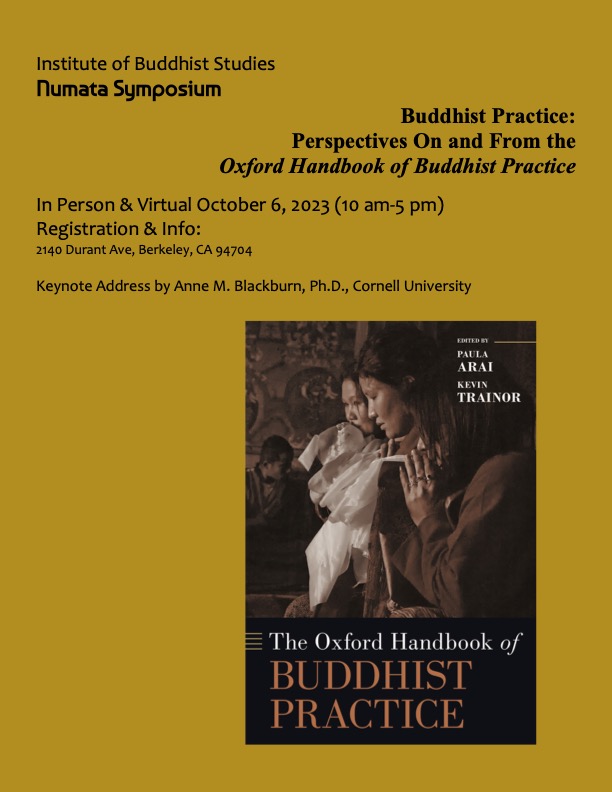 On October 6, 2023, IBS will host a Numata Symposium entitled, "Buddhist Practice: Perspectives on and From the Oxford Handbook of Buddhist Practice." This day-long symposium will bring together 18 contributors to explore themes from the 2022 publication, co-edited by IBS faculty member Paula Arai and Kevin Trainor of the University of Vermont. The handbook explores transformational practices that require practitioners to move, gesture, and emote in prescribed ways, including the ways that scholars' own embodied practices are integral to their research methodology. Given the fluidity and diversity of Buddhist practices, a central question that animates this volume is: What makes a given practice Buddhist? The concluding keynote address will be delivered by Dr. Anne Blackburn of Cornell University, who will contextualize the volume's place in the current field of Buddhist studies.
This free event will run from 10 am-5 pm at the Jodo Shinshu Center at 2140 Durant Ave., Berkeley, CA 94704. Online access will also be available.
Register for online webinar here.
Register for in-person event here. 
Moderators 
Paula Arai, co-editor, "Introduction: Embodiment and Sense Experience" and "Buddhist Practice 
in East Asia," Institute of Buddhist Studies
Kevin Trainor, co-editor, "Introduction: Embodiment and Sense Experience," University of 
Vermont emeritus
10:00 am-12 pm
Regional Perspectives
Nathan McGovern, "Buddhist Practice in Southeast Asia," University of Wisconsin-Whitewater
Eun-su Cho, "Buddhist Practice in East Asia," University of Seoul, emeritus
Todd Lewis, "Buddhist Practice in Central Asia/Himalayas," College of the Holy Cross
Scott Mitchell, "Buddhist Practice in Europe and North America," Institute of Buddhist Studies
Modernities and Emergent Forms of Practice
Jitsujo T. Gauthier, "Buddhist Chaplaincy," University of the West
Erik Braun, "Seeing through Mindfulness Practices, " University of Virginia
Elizabeth Harris, "Buddhist and Non-Buddhist Practitioner Relations, " University of 
Birmingham
John D. Dunne, "Contemplative Science and Buddhist Science, " University of Wisconsin-
Madison
Domestic & Monastic Practices
Vesna Wallace, "Monastic Discipline and Local Practice," Univ. of California, Santa Barbara 
Hiroko Kawanami, "Women's Ordination," University of Lancaster
Lori Meeks, "Monastic Authority in Medieval Japan: The Case of the Convent Hokkeji," 
University of Southern California
1:15-2:45
Material Mediations / Bodies in Transition
Susan Huntington, "The Agency of Images," Ohio State University, emeritus
Julia Shaw, "Buddhism and the "Natural" Environment," University College London
Miranda Shaw, "Dance as Vajrayana Practice, "University of Richmond, emeritus
Body-Mind Transformations / Human and Non-Human Interactions
Charles Jones, "Pure Land Practice," Catholic University of America
Mahinda Deegalle, "Aural Practices of Chanting and Protection, "Bath Spa University
Stephen Jenkins, "Heavenly Rebirth and Buddhist Soteriology," Humboldt State University, emeritus   
3:00-4:00 
Keynote Address by Anne M. Blackburn, Old Dominion Foundation Professor in the Humanities, Cornell University. Author of Buddhist-inflected Sovereignties Across the Indian Ocean: A Pali Arena, 1200-1550, Buddhist Learning and Textual Practice in Eighteenth-Century Lankan Monastic Culture, and Locations of Buddhism: Colonialism and Modernity in Sri Lanka.
4:00-4:45 Q&A
4:45-5:30 Reception