Rev. Dr. Daijaku Kinst to Step Down as IBS Faculty
Gesshin Claire Greenwood
|

November 8, 2022

Rev. Dr. Daijaku Kinst, who has served as the Noboru and Yaeko Hanyu Professor of Buddhist Chaplaincy and as IBS full-time faculty member since 2007, will step back from her role as professor in December. 

She has guided hundreds of students at the Institute of Buddhist Studies in their spiritual and academic formation through her teaching and mentorship. 

Rev. Dr. Kinst was born and raised in Oakland, California. She began her Zen Buddhist practice at Hartford Street Zen Center in San Francisco, founded by Issan Dorsey, that was famous for its hospice work with AIDS patients in the 1980s. She was ordained as a Zen priest at Tassajara Zen Mountain Monastery in 1988, and later received Dharma transmission from her teacher, Sojun Mel Weisman. 

After completing priest training, she completed a master's degree in Counseling Psychology and became a psychotherapist. During this time, she taught at the California Institute of Integral Studies, where she founded a therapy training clinic focused on Buddhist principles. 

Rev. Dr. Kinst first encountered chaplaincy while training to become a therapist. When she was completing her clinical hours, she learned of the Clinical Pastoral Education (CPE) program at University of California San Francisco (UCSF) Medical Center, and she did one unit of CPE there. 

"I learned an enormous amount about myself, ministry, and the Dharma and would recommend anyone training in ministry of any sort to do at least one unit of CPE," Rev. Dr. Kinst said. "To walk into a room not knowing what you will find, to face suffering in its most raw and concrete form, to feel your own incapacity and serve anyway, requires an honesty and a courage that can only lead to greater humility and trust in the Dharma."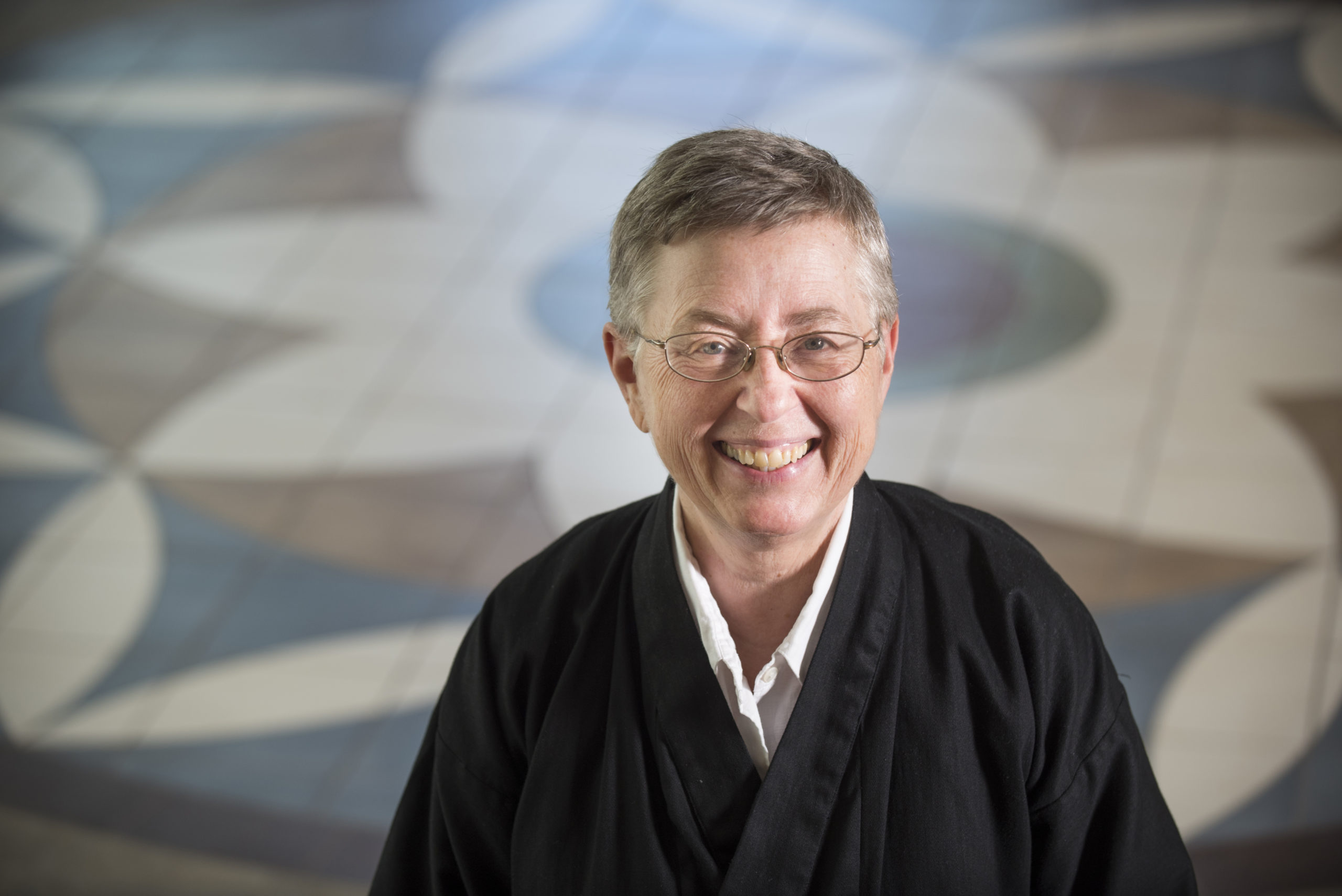 Rev. Dr. Kinst began teaching at IBS in 2007 as an adjunct professor, teaching classes about Zen Buddhism and Psychology. At the suggestion of Dr. Richard Payne, she soon began working to develop the chaplaincy program at IBS. 
With the generous support of the Hanyu family and the establishment of the Noboru & Yaeko Hanyu Buddhist Chaplaincy Professorial Chair, Rev. Dr. Kinst developed the chaplaincy curriculum, as well as relationships with professional organizations, CPE sites, Buddhist graduate schools with chaplaincy programs, and colleagues at other Graduate Theological Union (GTU) schools. 
Rev. Dr. Kinst said her focus in developing the chaplaincy curriculum has been to help students understand how the Dharma can inform service. 
Questions that she likes to pose to students are: "What is the Dharmalogical foundation for the practice of presence? What does the Dharma have to offer us in terms of understanding and addressing suffering? Individual and systemic racism? Other societal ills? How do we sustain ourselves in the midst of serving this saha world? How do we draw on the teachings and practices of our various traditions to create a Buddhist path of interfaith chaplaincy and ministry? How do we integrate important and useful Western psychological and non-Buddhist pastoral care teachings into Buddhist perspectives?"
In addition to helping create the chaplaincy program at IBS, Rev. Dr. Kinst has recently spearheaded the Certificate in Soto Zen Buddhist studies, a program which has grown and flourished in recent years. She began the program after noticing the lack of academic courses of study in the Soto Zen tradition in the United States. 
Rev. Dr. Kinst's impact has been broad and deep. 
"Her support of me through my time at IBS is without question, a large part of my ability to complete the program," said Rev. Daigan Gaither, a Zen priest and alumni of the chaplaincy program. "Moreover, I believe her skill as an educator, mentor, and advisor helped me develop as a Zen priest, and follower of the way, while her friendship helped me be a better person. I think that if whatever she does next is even half as impactful as her time at IBS, we will all be better for it." 
IBS students highlight Rev. Dr. Kinst's unique and impressive blend of academic, spiritual, and professional accomplishments as crucial to her influence as a teacher and mentor. With her wife, Rev. Dr. Kinst has been leading the Ocean Gate Zen Center in Capitola in the Santa Cruz area since 2007. Rev. Dr. Kinst plans on continuing to teach and lead her Sangha there after she ends work at IBS. Information about Rev. Dr. Kinst's teaching schedule can be found here:  https://www.oceangatezen.org/.
"As I reflect on our work together at IBS and in the wider Soto Zen world, I see how she has embodied the Soto way of careful and courageous attention to each moment," said IBS student Tom Ryūki Hawkins. 
"Whenever I seek some clarity in confusion, Daijaku responds by allowing me to recognize possibilities that I couldn't immediately see," Hawkins continued. "And yet, there's no waste of time or energy, and her clear eye can see when confusion appears again. When I have been discouraged, Daijaku offers the wise hope that a Buddha can share with a Buddha. Daijaku's love of the Dharma is an inspiration for me to bring that kind of presence more fully into our world." 
IBS Dean of Students Dr. Scott Mitchell said he is "profoundly grateful for the many years of collaboration I've had with Daijaku. 
"IBS is what it is today because of her profound contributions and tireless dedication to our community." Dr. Mitchell said. "I'm humbled by her work and will admit to being sad at thinking of her no longer being at IBS. But the profound gratitude I have for all she accomplished reminds me that her presence will be felt for many years to come."
IBS is grateful to Rev. Dr. Kinst's long career and her many gifts. We will miss her calm presence, fierce dedication to social justice, and impressive knowledge of Buddhist principles.