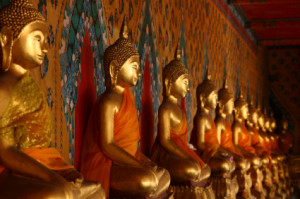 The Theravada tradition is one of the major strains of Buddhism, and constitutes an important part of Buddhism in the United States today. It is important both as the tradition of many immigrant Buddhists (Thai, Burmese, Sri Lankan, and so on), but also as the source of some of the forms of Buddhist practice popular among convert Buddhists (insight meditation).
The Certificate in Theravada Buddhist Studies is offered to students enrolled in any of our degree programs who wish to certify an emphasis in Theravada studies, or as a stand-alone certificate.
The certificate is offered in cooperation with the Sati Institute of Theravada Studies, Redwood City, Program Director and Research Fellow, Dr. Gil Fronsdal.
Non-degree students applying to the certificate must demonstrate that they are able to work at the graduate level. Application includes the following items:
application form,
transcripts of previous college work (students taking a certificate in conjunction with a GTU or IBS degree may submit unofficial transcripts, otherwise official transcripts only will be accepted),
interview with program director.
$40 application fee
Program Requirements: Student must complete eight (8), 3-unit courses for a total of 24 semester units, all with a grade of B or better. Seven of the eight courses are to be selected from those listed below. The eighth course may be any other course, with the proviso that the term paper be on a topic directly related to Theravada Buddhism. The student is to consult with the Program Director regarding the optional course and the term paper topic, and is to obtain course instructor's permission in writing (email version acceptable) in advance that the topic selected will be acceptable for the course requirements.
Recommended or Required Courses:
Introduction to the Study of Theravada Buddhist Traditions (HR 1596)
Meditation in the Theravada Tradition (HR 2990)
Indian Buddhist Philosophy (HRPH 3011)
Readings in Early Buddhist Texts (HR 1615), or Readings in Theravada Texts (NEW COURSE)
Buddhist Texts: Pali I (HR 1525)
Buddhist Traditions of South Asia (HRHS 1515)
Life and Teachings of the Buddha (HR 1550)
Topics in Buddhist Practice (HRPH 4558), when topic is appropriate
Buddhist Ethics (HRCE 3002)
For more information: