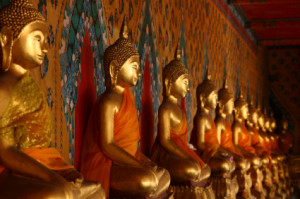 The Theravada tradition is one of the major strains of Buddhism, and constitutes an important part of Buddhism in the United States today. It is important both as the tradition of many immigrant Buddhists (Thai, Burmese, Sri Lankan, and so on), but also as the source of some of the forms of Buddhist practice popular among convert Buddhists (insight meditation).
This certificate is offered to students enrolled in any IBS degree program or as a stand alone certificate supplementing significant previous academic and/or practical studies. The certificate indicates that the student has completed a course of study with a focus on the history, thought, texts and contemporary application of Theravada Buddhism.
The certificate is offered in cooperation with the Sati Institute of Theravada Studies and overseen by the Program Director, Dr. Diana Clark in cooperation with Dr. Scott Mitchell, IBS Dean of Students and Faculty Affairs.
Formal application to the program is required. There is a $40 application fee. Application procedure also requires a meeting with the program director.
For more information:
---
Program Requirements
Student must complete eight (8) 3-unit courses for a total of 24 semester units.
Required Courses:
Introduction to the Study of Theravada Buddhist Traditions (HR 1596)
Meditation in the Theravada Tradition (HR 2990) or Introduction to Buddhist Meditation (HRSP 1508)
Readings in Early Buddhist Texts (HR 1615, HR 8160)
Buddhist Traditions of South Asia (HRHS 1515)
Recommended Courses (choose four from the following list):
Introduction to Buddhist Meditation (HRPH 1508) or Meditation in the Theravada Tradition (HR 2990), whichever course is not being used to satisfy the requirement
Life and Teachings of the Buddha (HR 1550)
Life and Teachings of Theravada Buddhist Masters (HR 1551)
Buddhist Texts: Pali I (HR 1525)
Buddhist Texts: Pali II (HR 1511)
Readings in Early Buddhist Texts (HR 1615), if texts are different from the texts studied in the course used to satisfy the requirement
Buddhism and the West (HR 2849, HR 2850, HR 8344)
Topics in Theravada Buddhist Thought (HR 2995)
Buddhist Ethics (HRCE 3002)
Theravada Buddhism (HRHS 4550)
Readings in Theravada Texts
History of the Theravada Buddhist Traditions
Topics in Buddhist Thought (HRPH 4556, HRPH 8455), when topic is appropriate
Topics in Buddhist Practice (HRPH 4558), when topic is appropriate
Topics in Buddhism in the West (HRHS 5526), when topic is appropriate
Topics in Buddhist Studies (HRPH 6015), when topic is appropriate