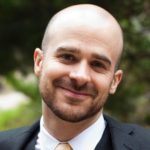 Director and Principal Investigator, Public Theologies of Technology and Presence
B.A., Occidental College, Los Angeles
M.A., University of California, Santa Barbara
Ph.D., University of California, Santa Barbara
Steven Barrie-Anthony is a researcher, teacher, and author in the area of contemporary American religion and public life. He is the Director and Principal Investigator of Public Theologies of Technology and Presence, an Institute of Buddhist Studies initiative, funded by a $475,000 grant from the Henry Luce Foundation, that harnesses the power of religion scholarship and theology to address the impact of technology on human relationships. The Initiative provides research funds to a grantee cohort of religion scholars and theologians from across the disciplines and traditions, and journalists, for their projects on this subject of great public concern. The Initiative also engages closely with Silicon Valley technologists. It facilitates an ambitious agenda of scholarly and popular publishing, public talks, the publication of a digital forum, white papers, and the development of models for teaching the subject within university departments of religion and theological institutions.
Barrie-Anthony's research has appeared in numerous scholarly volumes and he has published more than 100 essays in popular venues such The Atlantic and the Los Angeles Times. He was formerly a staff writer with the Los Angeles Times, where he developed the technology and culture beat and where his articles were often syndicated across the Los Angeles Times / Washington Post wire service to appear in many media outlets nationally and internationally. He is a Visiting Scholar with the UC Berkeley Center for the Study of Religion, and a clinical research candidate at the Institute for Contemporary Psychoanalysis in Los Angeles.
Research and Teaching Interests
Religion and Technology
Religion and Media
Sociology of Religion
Religion and Medicine/Healing
Tibetan Buddhist Medicine
Selected Publications
"Christianity in the English-Speaking West" (with Wade Clark Roof). The International Encyclopedia of the Social and Behavioral Sciences, 2nd ed. Editor James D. Wright. New York: Elsevier Science (2015).
"Alternative Medicine in the Press." The Oxford Handbook of Religion and the American News Media. Editor Diane Winston. New York: Oxford University Press (2012).
"Hare Krishna"; and "Heaven's Gate." The Encyclopedia of Global Studies. Editors Mark Juergensmeyer and Helmet Anheier. New York: Sage (2011).
"Reciprocal Totalism: The Toxic Interdependence of Anticult and Cult Violence" (with Dick Anthony and Thomas Robbins). Violence and New Religious Movements. Editor James R. Lewis. New York: Oxford University Press (2011).