Meet Gesshin Greenwood, our new Chaplaincy Program Coordinator!
M. Editor
|

July 22, 2019

IBS would like to introduce our new Chaplaincy Program Coordinator, Gesshin Greenwood. Gesshin is a San Francisco native, Soto Zen priest, and therapist in training. She ordained in Japan with Seido Suzuki Roshi, and trained at Toshoji Monastery and Aichi Senmon Nisodo; she also has a master's degree in East Asian Studies from the University of Southern California. We are excited to have her helping Chaplaincy Program Director Daijaku Kinst with chaplaincy student professional development, admission, outreach, and monthly formation meetings.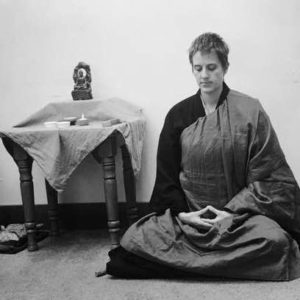 Q: Tell us about yourself. How did you find your way to Buddhism?
A: My parents are Vipassana practitioners at Spirit Rock, so Buddhism and meditation has been in the background of my consciousness since I was in high school. In college I was lucky enough to study abroad in Bodh Gaya, India, where the Buddha was enlightened, and temporarily ordain there in the Burmese tradition. After college I realized I wanted to do was practice the dharma, so I went to Japan, where I'd heard there was a monastery that took foreigners and women. I eventually ordained there in the Soto Zen tradition with Seido Suzuki Roshi and trained at Toshoji and Aichi Senmon Nisodo, a women's monastery, for a total of around five years. My final year in Japan I spent studying Japanese language at Nanzan University. After that I moved back to the United States and went to graduate school at USC. I wrote my thesis on medieval Japanese Soto Zen convents, particularly the communities around Keizan at Entsuin, as well as Dogen's disciple Ryonen and the previously unstudied Jodo Daishi.
Q: Are you an academic?
A: Although I learned a lot at USC, and I had the rewarding opportunity to translate some original documents from Japanese, the process showed me that I don't want to be only an academic. I think I do have the critical thinking mind of an academic, but I've got the heart and hands of a monk, meaning I need a lot of empathy and compassion in my daily life. I've changed career goals somewhat and am now enrolled at CIIS, where I'm training to be a marriage and family therapist. In the last year I've worked many social service jobs—at drug and alcohol rehabs, homeless shelters, with autistic children, and as a nanny. I'm excited to be working at IBS because I see it as really bridging the gap between religious study and embodied engagement. I also empathize with being religious clergy trying to make the transition into the professional field after lots of religious training. It can be a scary and uncertain time.
Q: Favorite dharma books?
A: Being Peace, and All About Love: New Visions
Q: Favorite TV show?
A: Right now it's Veronica Mars. I also like So You Think You Can Dance and The Good Place.
Q: Favorite music?
A: I have the musical taste of an eleven year old girl, which I verified when I was a nanny for one! I like Taylor Swift and Rihanna. I've also been listening to Tegan and Sarah sort of nonstop recently, probably in celebration of Pride.
Q: Anything else you want people to know about you? Hobbies?
A: I recently started painting watercolors again. They're hard! I used to do a lot of art and music as a kid so I'm trying to get that creativity back. I also love to cook and am obsessed with food. I recently published a cookbook of Japanese temple food. I really, really love my two dogs. I'm a feminist and am very opinionated. Is being opinionated a hobby? If so, I'm very advanced.
---